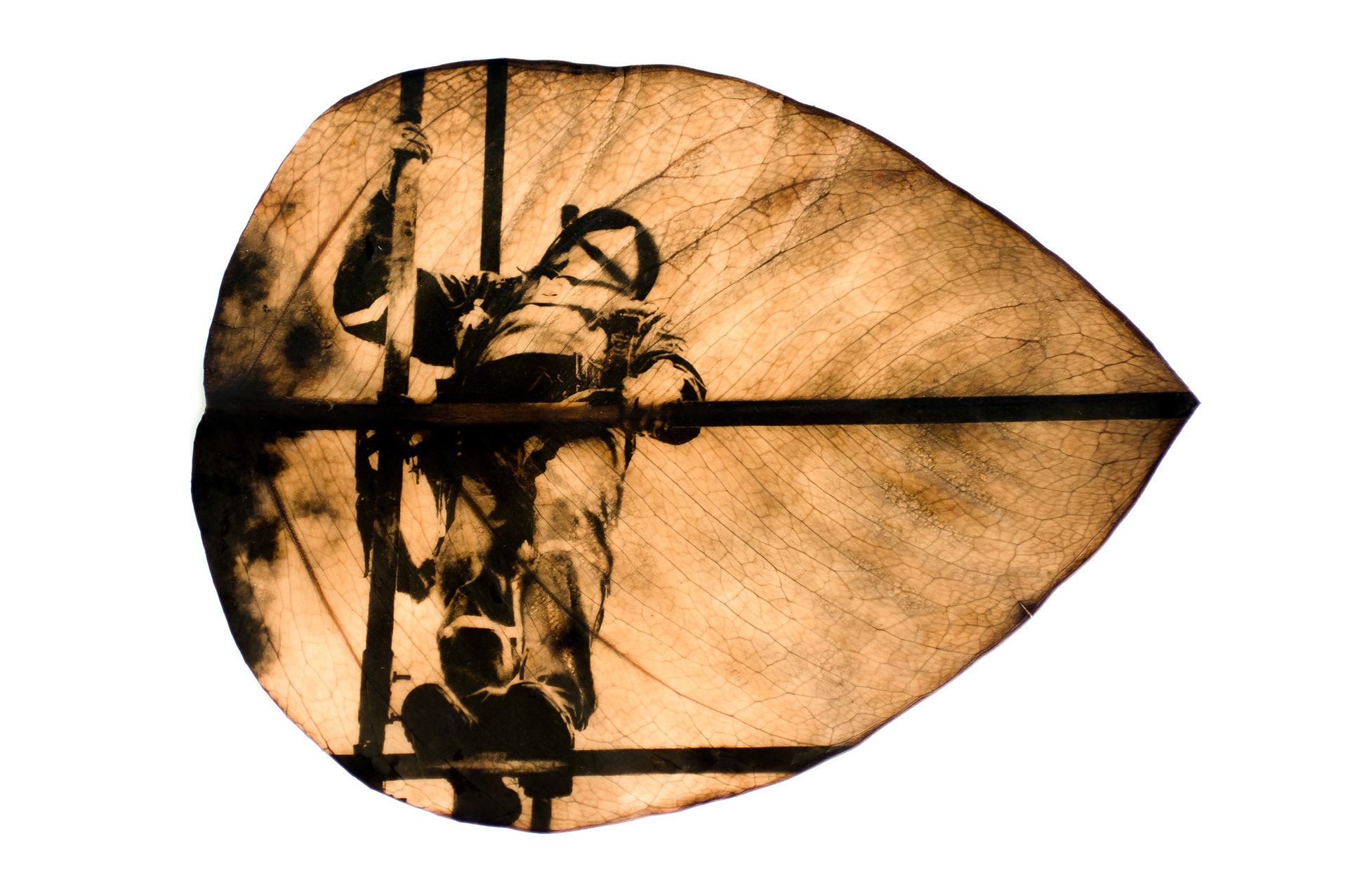 The workers of the Sun - Chlorophyll prints
This is a follow-up of the documentary photography project 

The workers of the Sun

, whose images were printed through an alternative technique of anthotype called chlorophyll process. Developed by the artist and photographer Binh Danh, this technique was chosen due to its bound with the sun – the same element appropriated in the photographic narrative about the naval laborers in their working hours and intrinsic to the project's creative process.

The experiment of this organic method was made with the purpose to produce meaning between the images theme, the printing process and the leaf's materiality. Different from the experience provided by the pixels of a digital image or by the presumed neutrality of the photographic paper's white surface, the leaf is a canvas that possesses its own graphical dynamic. Therefore, the outlines shaped by the stem and the veins were considered in the pursuit for visual balance and each image was carrefully engaged to establish a dialogue with the leaf natural composition, in order to create a harmonious printing. However, the premise of creating meaning is not only related to the aesthetic issue, but also to the intimate connection between the workers reality and the way the images are printed. Coined « chlorophyll prints » by the artist, the images transfer onto the surface living leaves is achieved by exploiting the natural process of photosynthesis. The leaf is pressed with a positive between two glass plates and then exposed to the sun. Along the process, the leaf's body endure the same conditions that the worker's body endure in the construction site. It feels the same excessive heat caused by the direct exposure to the sun and the physical properties of the material that surronds it. Under these conditions, the worker and the leaf sweat together, then turn into one under the same sun. But they are not destined to last. The displacement caused by the job search is not a singularity faced only by laborers from the naval industry, but it's part of a reality defined by the capitalist mode of production that they are conditioned to and reforced by social inequality. Compelled to move around the country where there is a demand for labor, they are also coerced to accept the industry's work conditions. Their employability not only depend on the life of the project, but also on its stage. Thus, the same state of impermanence that the workers are subject to is found in the organic matter where the images were printed. Just as the transience lived by them, these photographs are also faded to the ephemeral cicle of life of the leaves.
Os trabalhadores do sol - chlorophyll prints
É uma continuação do projeto de fotografia documental

Os trabalhadores do Sol

, cujas imagens foram impressas por meio de uma técnica alternativa de antotipia chamada chlorophyll process. Desenvolvida pelo artista e fotógrafo Binh Danh, esta técnica foi escolhida em razão do seu vínculo com o sol – o mesmo elemento apropriado na narrativa fotográfica sobre os operários navais em suas jornadas de trabalho e intrínseco ao processo criativo do projeto.

A experimentação deste método orgânico foi feita com o objetivo de produzir significado entre o tema das fotografias, o processo de impressão e a materialidade do suporte. Diferente da experiência proporcionada pelos pixels da imagem digital ou pela neutralidade presumida da superfície branca do papel fotográfico, a folha é uma tela que possui sua própria dinâmica gráfica. Desse modo, as linhas moldadas pelo caule e pelas nervuras foram consideradas na busca por um equilíbrio visual e cada imagem foi cuidadosamente combinada para estabelecer um diálogo com a composição natural da folha, de modo a criar uma impressão harmoniosa. Entretanto, a premissa de criar sentido não está relacionada somente à questão da estética, mas também à conexão íntima entre a realidade dos trabalhadores e a forma como as imagens são impressas. Nomeadas de chlorophyll prints pelo artista, as imagens são transferidas para as superfícies de folhas vivas explorando o processo natural da fotossíntese. A folha é prensada junto com um positivo entre duas placas de vidro, e então exposta diretamente ao sol durante dias. Ao longo do processo, o corpo da folha sofre as mesmas condições que o corpo do trabalhador sofre na área de produção. Ela sente o mesmo calor excessivo causado pela exposição ao sol e pelas propriedades físicas do material que a cerca. Nestas condições, o trabalhador e a folha transpiram juntos e se transformam em um só sob o mesmo sol. Mas eles não estão destinados a durar. O deslocamento decorrente da procura de trabalho não é uma singularidade somente enfrentada pelos operários da indústria naval, mas é parte de uma realidade definida pelo modo de produção capitalista em que eles estão condicionados e reforçada pela desigualdade socioeconômica. Compelidos a se deslocarem pelo país onde há demanda por mão-de-obra, eles também são coagidos a aceitar as condições de trabalho impostas pela indústria. Sua empregabilidade não só depende da duração do projeto, mas da etapa dela também. Sendo assim, o mesmo estado de impermanência em que os trabalhadores estão sujeitos é encontrado na materialidade orgânica onde as imagens foram impressas. Assim como a transitoriedade vivida por eles, estas fotografias também estão fadadas ao ciclo efêmero da vida das folhas.