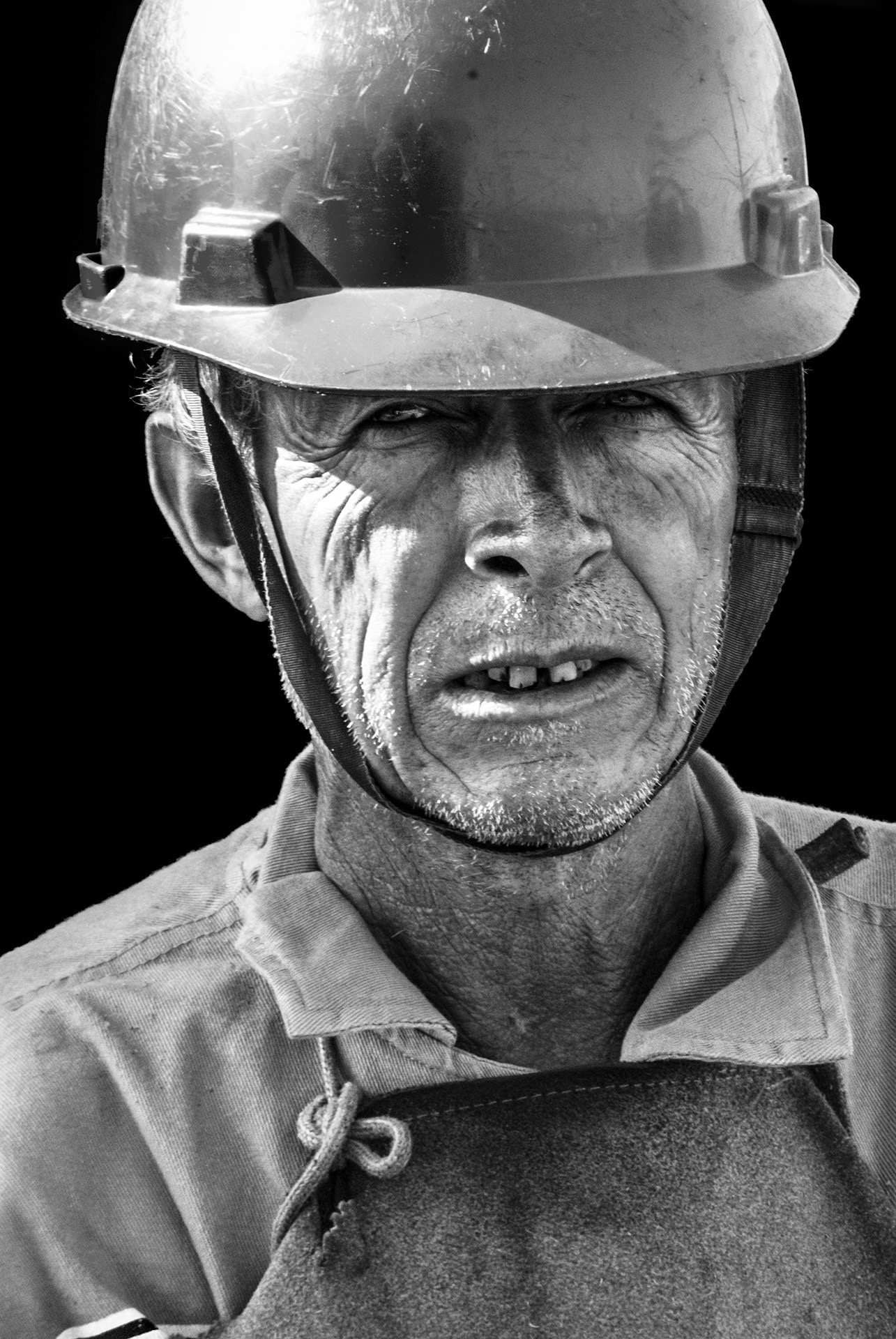 This is a documentary photography project about the laborers who worked in the building site of a Brazilian shipyard, specialized in the construction of complex products for the oil and gas industry. 
The interest of photographing them was fomented by a specific condition they were submitted: to work under the sun. Plus, the physical properties from the industrial machinery and the manual labor conditioned to the naval construction were also impressive heat sources. As a fundamental energetic response to regulate human's body temperature, the sweat was inherent to their activities. 
As they worked under the sun for a living, they became the protagonists of the following visual representations.
It was common to hear stories from workers who lived so far that they had to leave home in the middle of the night and often commuting with more than one means of transportation to clock in at 6:30 a.m.

They would also spend hours after dark within greater Rio de Janeiro's traffic jam on their way back home. Their contact with the sun would happened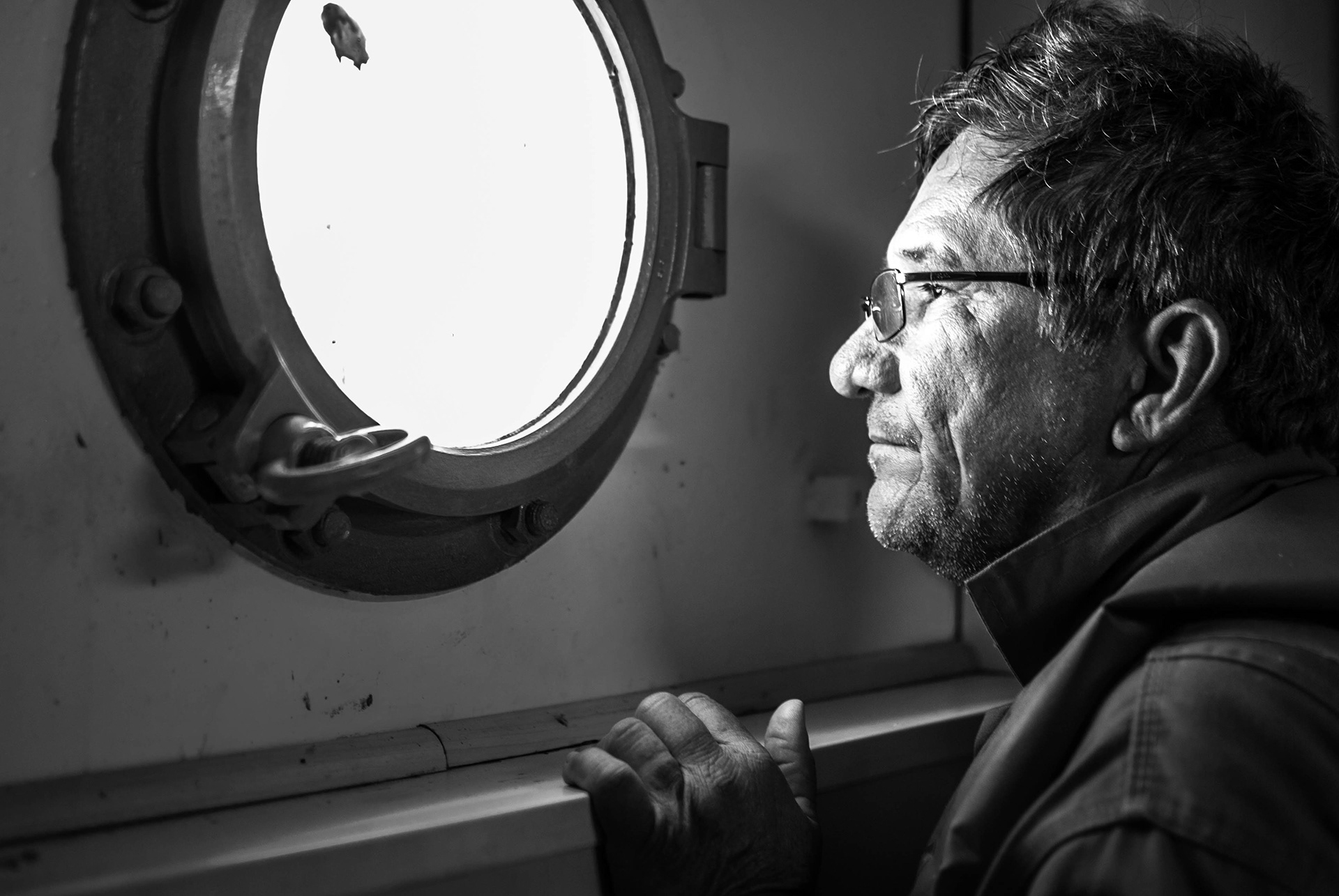 In a country scarred by social inequality, you could feel relationships been valued or depreciated according to one's position in the hierarchical structure
— 
stemmed 
from the division between manual and intellectual labor. The social stigma was reinforced through the colors of the uniforms, as the laborers would wear
 grey while engineers and leaderships would wear white.
The decision to take black and white pictures was made in order to reappropriate the shades of the color submitted to the working class.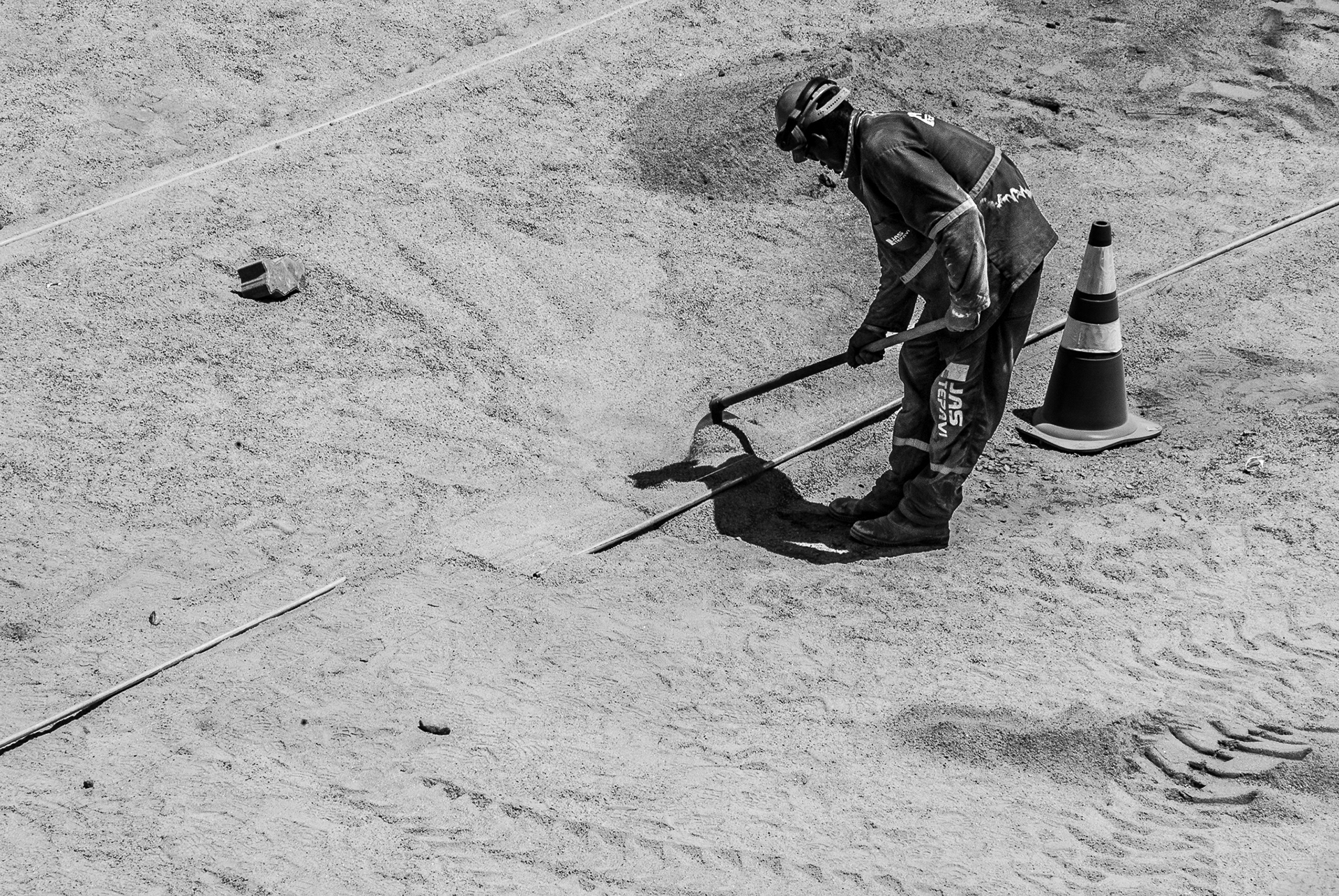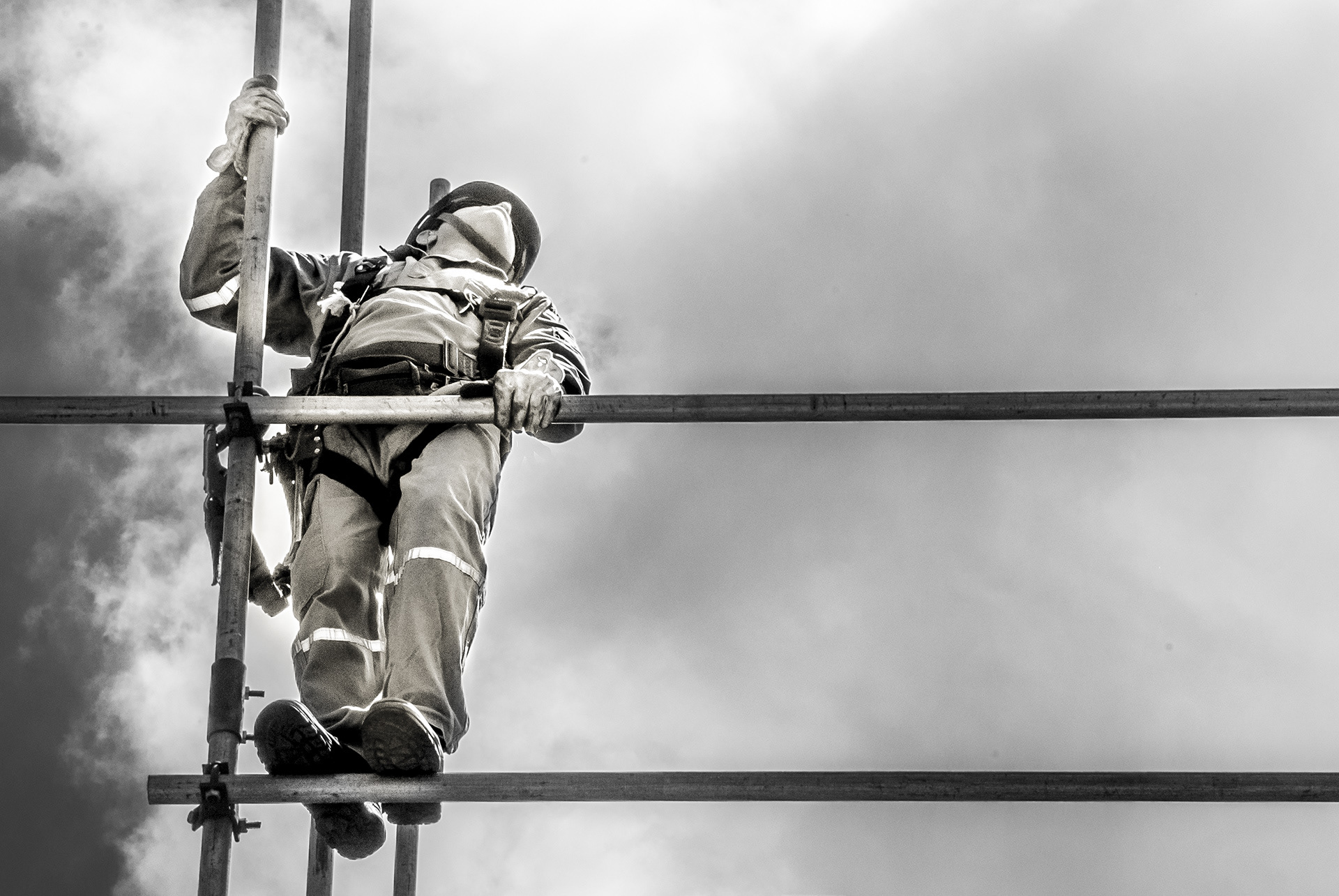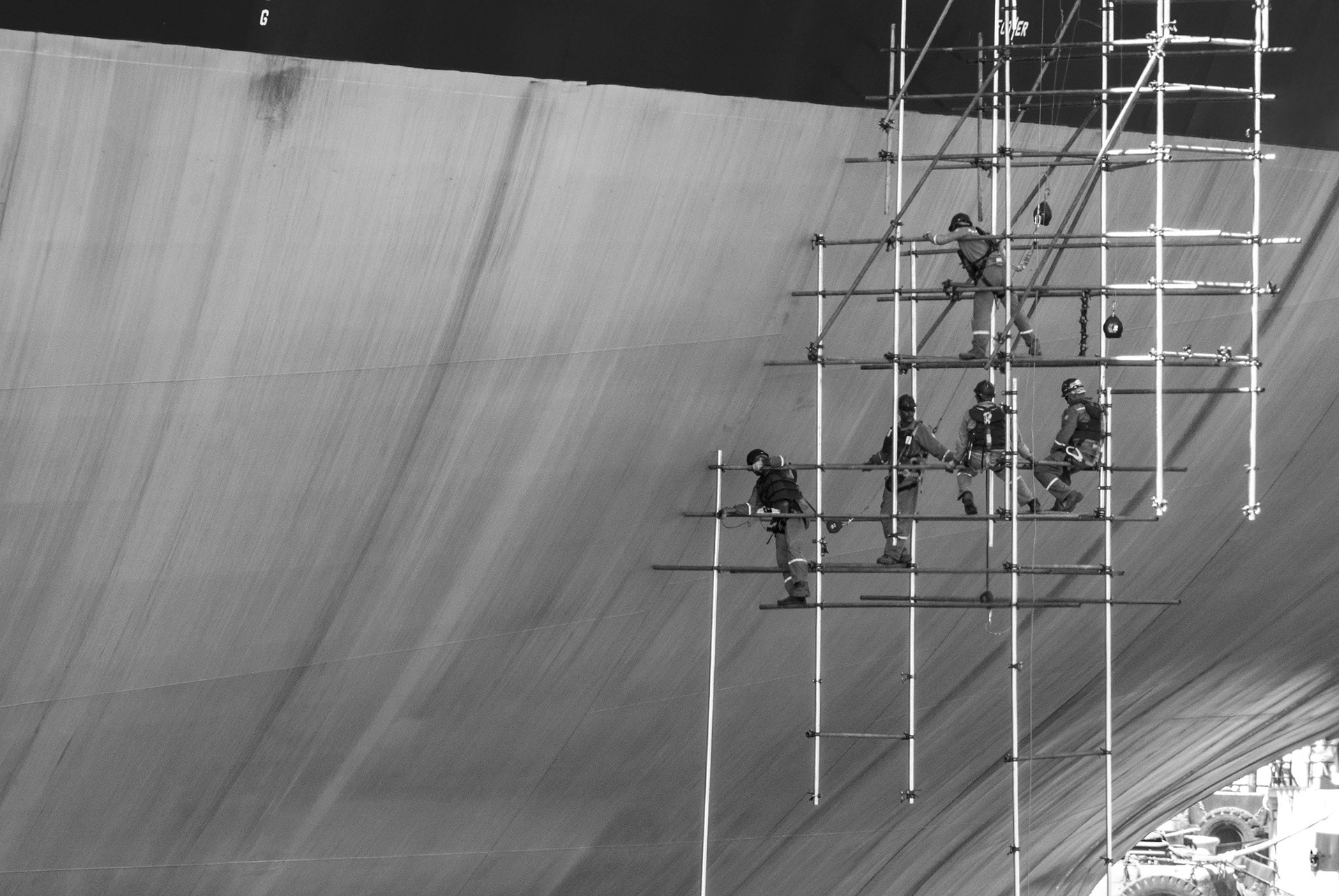 The displacement caused by the job search is not a singularity of the naval industry. Yet I remember feeling surprised to discover the quantity of workers who already knew each other from previous projects they had worked on together around Brazil. A significant part of the laborers I've met over the two years I've spent in the shipyard lived this nomadic reality. Cases of families living apart because they didn't have the means to relocate alongside the one who got employed in the yard were common. And even the ones who somehow had the means, chose not to because the logic of housing is not restricted to itself. There is a strategy of space and sociability involved, such as the partner's work, school, facilities, leisure, among others. In addition, the laborer's conditioning to move wherever there is a demand for labor is not a guarantee of stability. Its employability not only depends on the existence of a project, but also on the stage it is in. Part of the dynamic of being a laborer is to be subject to displacement and be apart from the family, as well as to the instability conditioned to the industry's own temporality.
O deslocamento decorrente da procura de trabalho não é uma singularidade da indústria naval. Lembro de ter me surpreendido ao descobrir a quantidade de trabalhadores que já se conheciam por terem trabalhado juntos em outros projetos pelo Brasil. Uma parte significativa dos operários com os quais tive contato durante os dois anos que eu também estive no estaleiro viviam esta realidade nômade. Os casos de famílias que moravam longe por não possuírem os meios de serem realocadas junto com a pessoa empregada no estaleiro eram comuns. E mesmo as que de alguma forma possuíam, decidiam por não serem, pois a lógica da moradia não se restringe em si só. Há uma estratégia de espaço e de sociabilidade envolvida, como trabalho do/a cônjuge, escola, facilidades, lazer, entre outros. Além disso, o condicionamento do operário em se locomover onde há demanda de mão-de-obra não é garantia de estabilidade. Sua empregabilidade depende não só da existência de um projeto, mas da fase em que ele se encontra também. Parte da dinâmica de ser operário é estar sujeito ao deslocamento e à distância da família, assim como à instabilidade condicionada à temporalidade própria da indústria.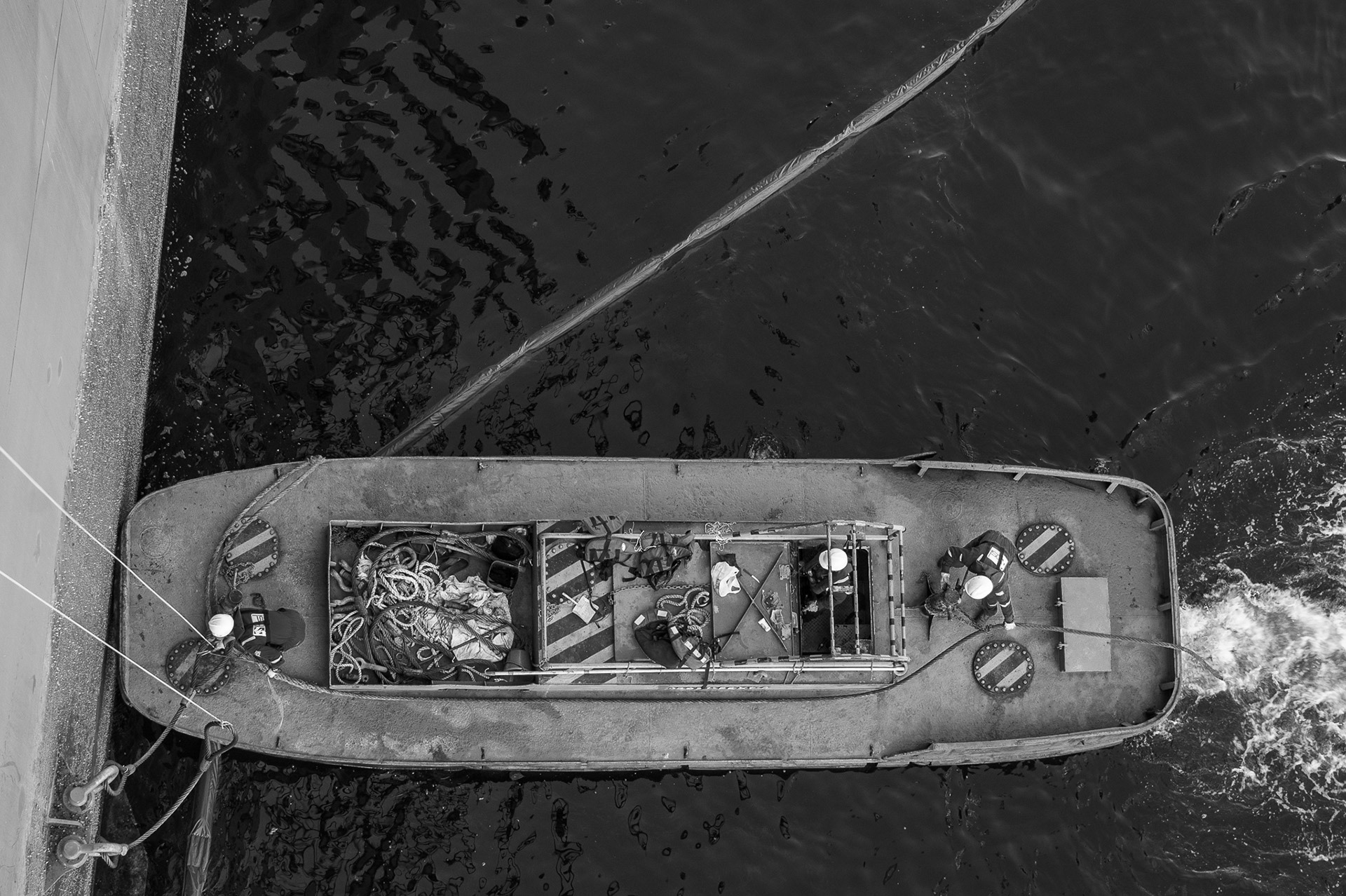 A worker once told me something I've never forgotten. «
They say that peão* stinks. That the smell of sweat is too strong and it hurts... It really hurts. They don't think that if the peão is sweating, it's because he's working. He's only doing his job. And this should be seen as a good thing. Something to be proud of.
» 


*Peão is a Brazilian Portuguese word used for laborer but has other meanings. It is also the word used for pawn in the game of chess and can mean a person with little importance or even disposable. Yet the term has been reappropriate by the laborers and is used to strengthen their working class identity.
Um trabalhador me disse algo uma vez que nunca esqueci. « 
Dizem que peão* fede. Que o cheiro do suor é forte demais e isso dói... Dói muito. Eles não pensam que se o peão tá suando, é porque ele tá trabalhando. Ele só tá fazendo o seu trabalho. E isso deveria ser visto como algo bom. Deveria ser motivo de orgulho. 
»


*Peão é um termo que varia de acordo com quem o fala. Ele pode ser usado de forma depreciativa para designar aquele que executa o trabalho manual mais operacional possível. O trabalhador que não manda ou toma decisões, só obedece. Entretanto, o termo foi reapropriado pelos operários e é usado como forma de fortalecer a identidade da classe trabalhadora.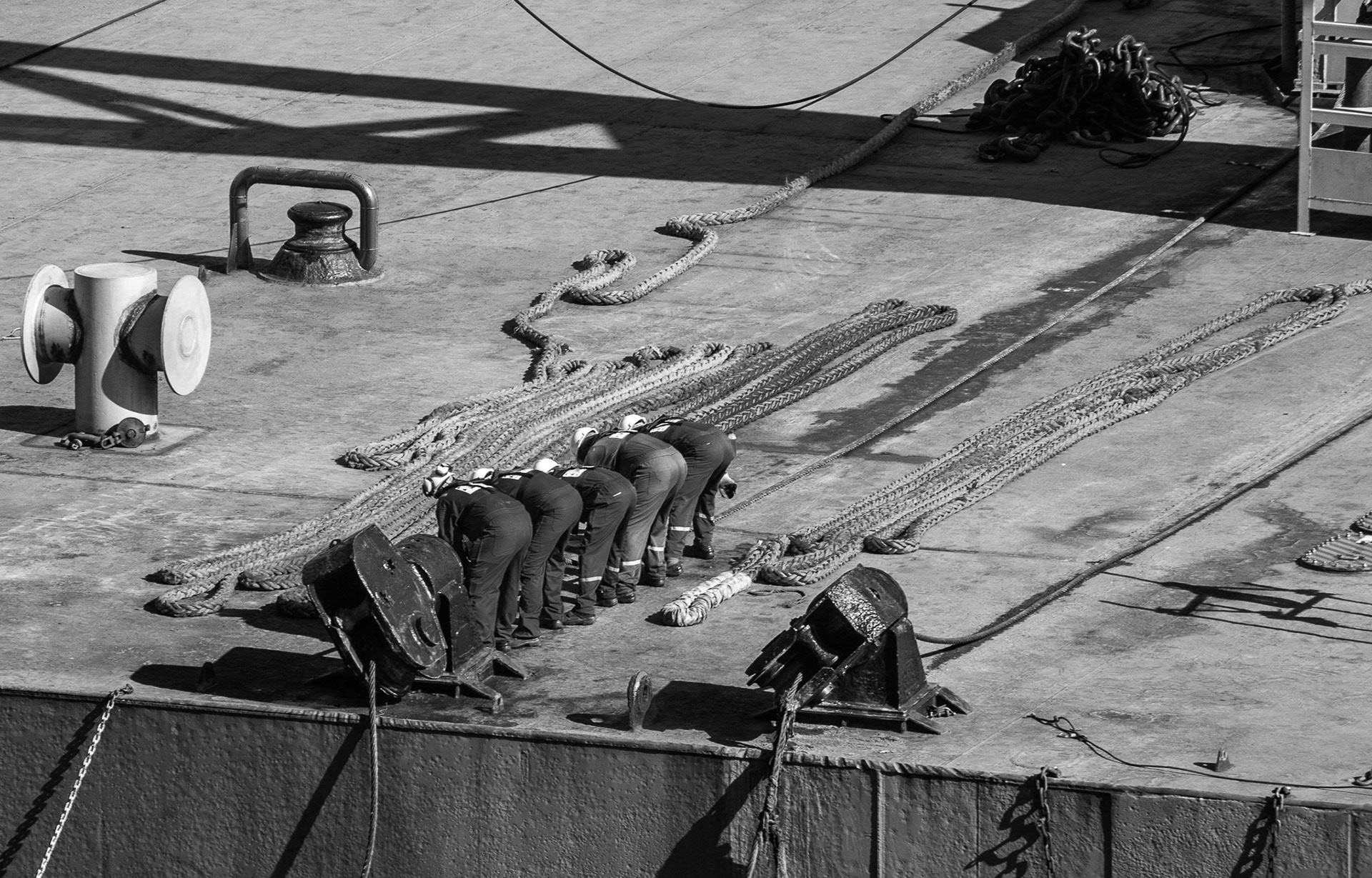 Galega was one of the few women working in the construction site and had such a incredible presence. « 
What we hear them say is not to hire woman because woman is weaker, woman feels pain and woman get pregnant... And this ain't good for the project. I've been working in the industry for years across the country and they all know me and my work. I'm more stronger than many men and they all respect me for that. They respect me because they know I'm a fighter and the other women who work here are fighters too. We belong in the field just as men do.
»
Galega era uma das poucas mulheres trabalhando na área de produção e possuía uma presença incrível. « 
Ouvimos eles falarem para não contratar mulher porque mulher é mais fraca, mulher sente dor, mulher engravida... E isto não é bom para o projeto. Eu trabalho na indústria há anos pelo país e todos me conhecem e conhecem meu trabalho. Eu sou mais forte do que muitos homens e todos eles me respeitam por conta disso. Eles me respeitam porque sou batalhadora e as outras mulheres que trabalham aqui também são batalhadoras. Nós pertencemos ao canteiro tanto quanto os homens.
 »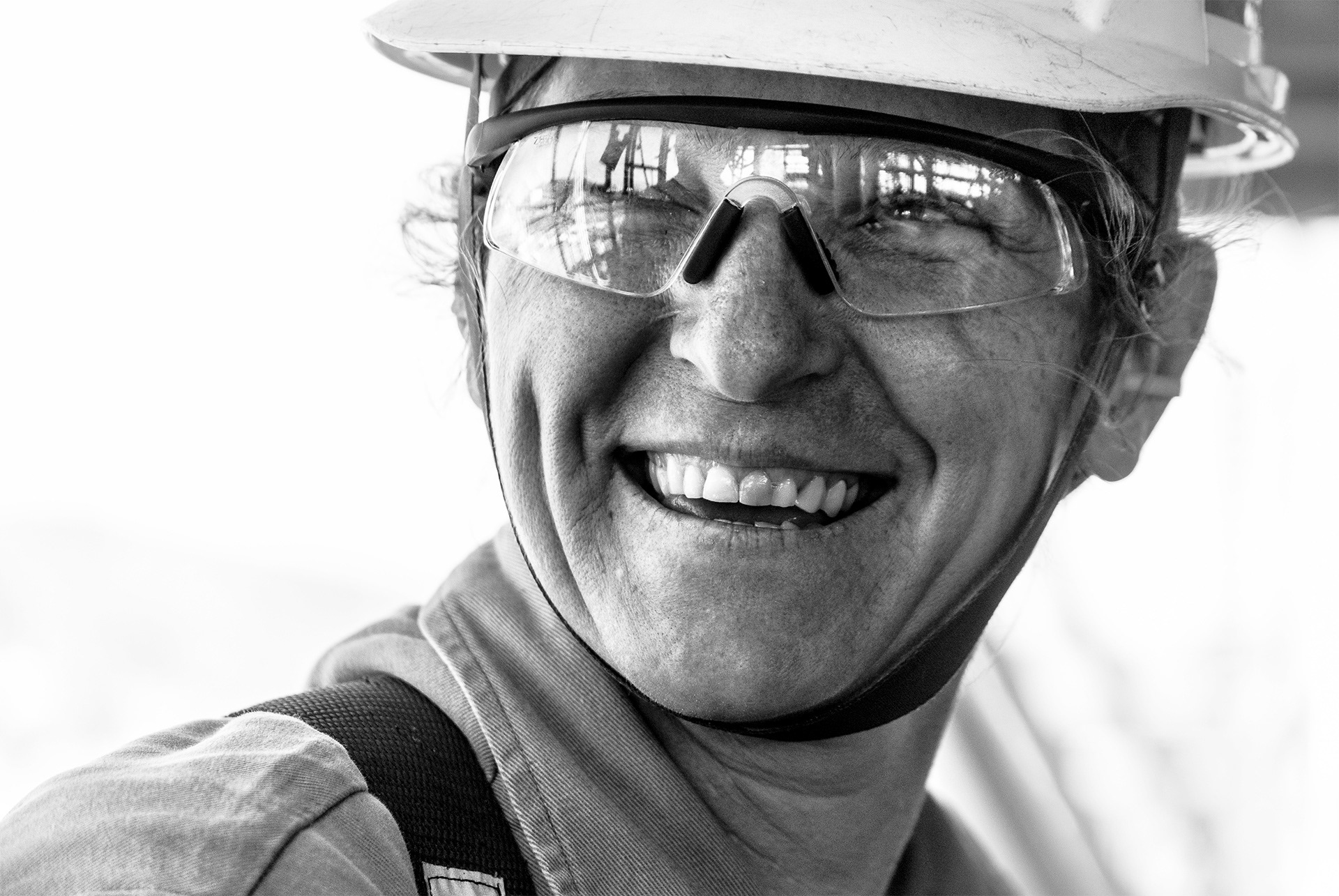 Adailton was very proud to say that he had been working on the naval industry for eleven years. He told me he felt achievement in his work while we were watching the lifting of the latest module he had worked on. «
It's a hard labor... But when I look at it, I can see the work I've done in there. I really do. So I go home to my family feeling proud of myself and of what I do.
»
Adailton sentiu muito orgulho em me dizer que ele trabalha na indústria naval há onze anos. Ele me contou que se sentia realizado com seu trabalho enquanto observávamos o içamento do último módulo que ele trabalhou. « 
É um trabalho pesado... Mas quando eu olho pra isso, eu consigo ver o trabalho que fiz ali. Eu realmente consigo. Então eu vou para casa com minha família sentindo orgulho de mim e do que eu faço.
 »
Despite of the inhospitality of the naval's environment, there was also beauty. Beneath the impersonality of the PPE*, the laborer who was facing another hot day of work under the Sun is an individual who has his own identity and worldview. Through his body, his strength and his sweat, it is him who materialises the engineering's complex technologies projected on pieces of paper. But he's much more than a pawn**. He is someone with an unique and indivisible existence.
*PPE is the abbreviation for personal protective equipment.
**Reference to the biased view of the Portuguese word peão used for laborer, as the chess piece of the smallest size and value in the game.
Apesar da inospitalidade do ambiente naval, também havia beleza. Debaixo da impessoalidade do EPI*, o operário que estava enfrentando mais um dia quente de trabalho embaixo do Sol é um indivíduo que possui uma identidade e uma visão de mundo própria. Por meio do seu corpo, da sua força e do seu suor, é ele quem materializa as complexas tecnologias da engenharia projetadas em pedaços de papel. Mas ele é muito mais do que um peão**. Ele é alguém com uma existência única e indivisível.
*EPI é a sigla para equipamento de proteção individual.
**Referência à visão preconceituosa relacionada ao termo peão, como a peça de menor tamanho e valor no jogo de xadrez.
At one point, the shipyard wanted to ban all helmets with things written in it as an aesthetic issue.
« 
They don't understand. Most of us know each other from other projects around Brazil but can't recognize one another with all these equipments. The construction site is like a battle field... Always very busy, full of noise, crowded with people and things going on... This is how we identify ourselves. Like war names. We all have one.
 »


*soldado means soldier in Portuguese
Em certo ponto, o estaleiro quis banir todos os capacetes que tivessem algo escrito por uma questão de estética.
« 
Eles não entendem. A maioria de nós nos conhecemos de outros projetos pelo Brasil, mas a gente não consegue se reconhecer com todos esses equipamentos. A área de produção é como um campo de guerra... Sempre muito movimentado e barulhento, cheio de gente e de coisas acontecendo... É assim que a gente consegue se identificar. É como um nome de guerra. Cada um tem o seu. 
»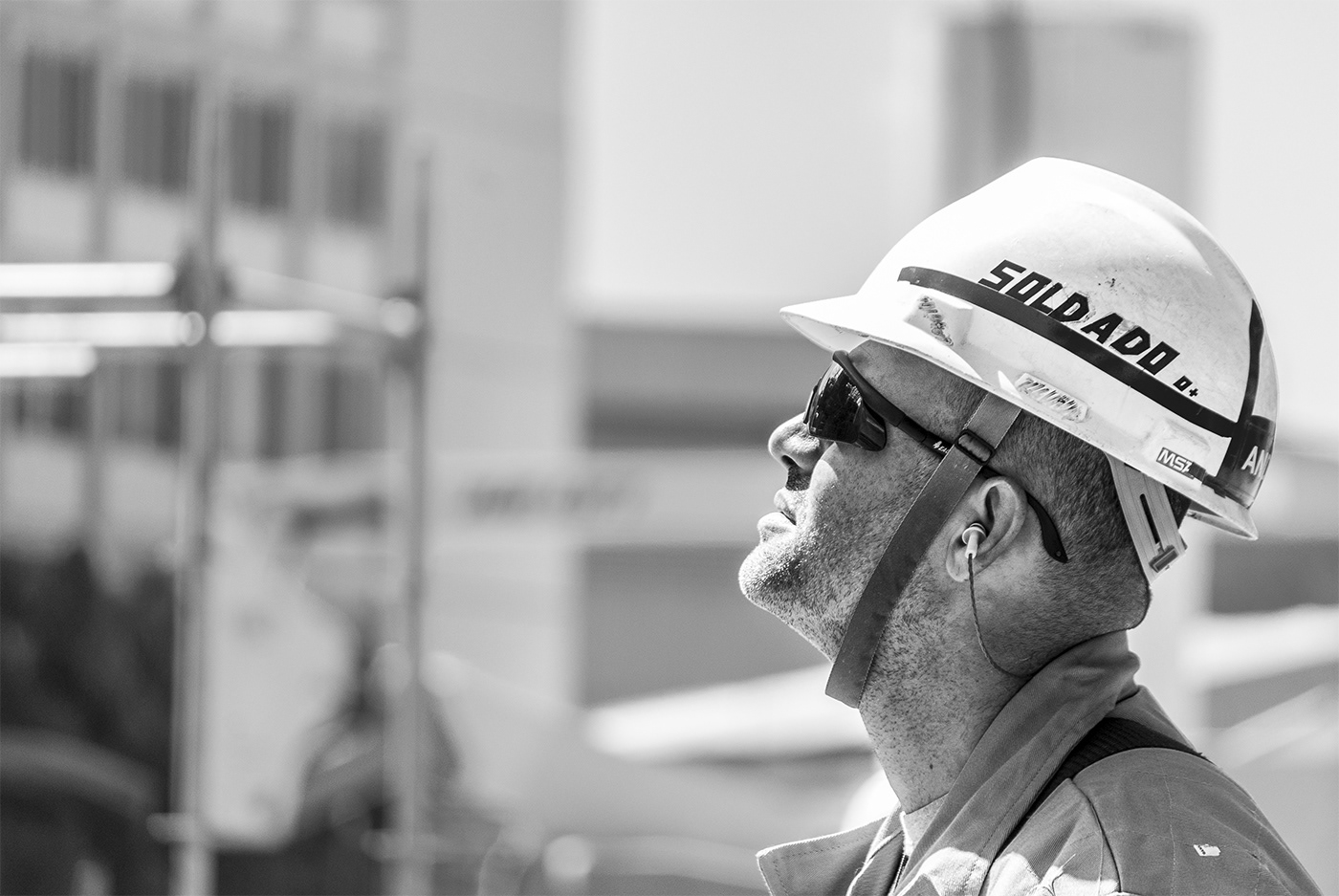 Almoxarifado is the Portuguese word for warehouse, a place for storage of goods and an essencial station of the shipyard. As one could expect, the production site was full of industrialized signs about work and safety matters – so it wouldn't be a surprise to see one of those indicating the warehouse. But this painted lettering was the result of a very interesting vernacular typography to notice. A reminder that design is everywhere because the need to communicate will always move people to improvise in their surroundings, whether qualified or not. Therefore contributing to popular culture – and also 
Brazilianness
in this case.
Almoxarifado é o lugar destinado a armazenar materiais e um posto essencial do estaleiro. Como pode se esperar, a área de produção era repleta de placas industrializadas com conteúdos relacionados a trabalho e segurança – então não seria surpreendente observar uma destas placas indicando o almoxarifado. Porém, este
lettering
pintado era o resultado de uma tipografia vernacular muito interessante de se notar. Um lembrete de que o design está em todo lugar porque a necessidade de comunicar sempre moverá as pessoas a improvisar em seu entorno, independentemente de serem qualificadas ou não. Contribuindo assim à cultura popular – e à brasilidade também neste caso.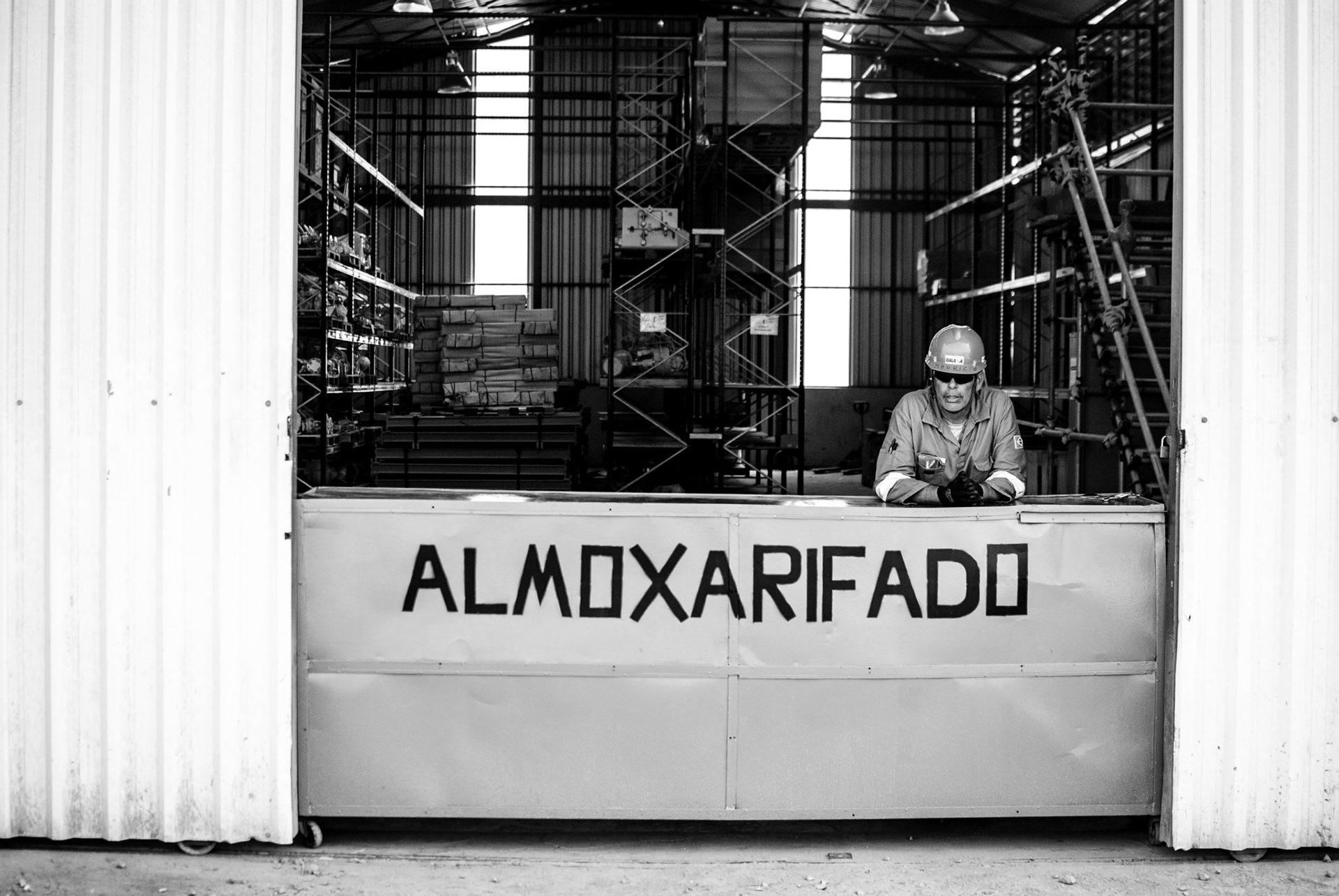 The Brazilian naval sector that was living one of the heights of its history, due to the strengthening of the oil and gas industry promoted by the national policy since the 2000s, changed dramatically in 2014. Known as Operation Car Wash, the ongoing investigations set against a money laundering scheme revealed a systemic corruption framework which reached Brazilian major contractors and powerful political figures. Directly damaged by the scheme, the current industry scenario is disastrous: unfinished works, empty sites, shipyards without payments and the direct discharge of over 50,000 workers since 2014 – according to the data from National Syndicate of the Naval Industry and Offshore Construction and Repair (SINAVAL). Because of the suspension of bids for works and its economic dependence from oil and gas segment, Rio de Janeiro is one of the most affected states. With a growing number of shipyards in part or totally paralyzed, over 3,000 laborers who had signed work cards from the shipyard where this project took place had to be dismissed due to the lack of work and move around the country looking for labor.
O setor naval brasileiro que estava vivendo um dos auges da sua história, devido ao fortalecimento da indústria do petróleo promovido pela política nacional desde os anos 2000, mudou drasticamente em 2014. Conhecido como Operação Lava Jato, o conjunto de investigações em andamento contra um esquema de lavagem de dinheiro revelou um quadro de corrupção sistêmica que atingiu grandes empreiteiras brasileiras e poderosas figuras políticas. Afetada diretamente pelo esquema, o cenário da indústria atual é desastroso: obras inacabadas, canteiros vazios, estaleiros sem pagamento e a demissão direta de mais de 50 mil pessoas desde 2014 – segundo os dados do Sindicato Nacional da Indústria de Construção e Reparação Naval e Offshore (Sinaval). Devido à suspensão de licitações para obras e sua dependência econômica pelo segmento do petróleo, Rio de Janeiro foi um dos estados mais atingidos. Com um crescente número de estaleiros em parte ou totalmente paralisados, mais de 3.000 operários que possuíam carteira assinada no estaleiro que este projeto foi realizado foram demitidos por falta de projeto e tiveram que sair pelo país à procura de trabalho.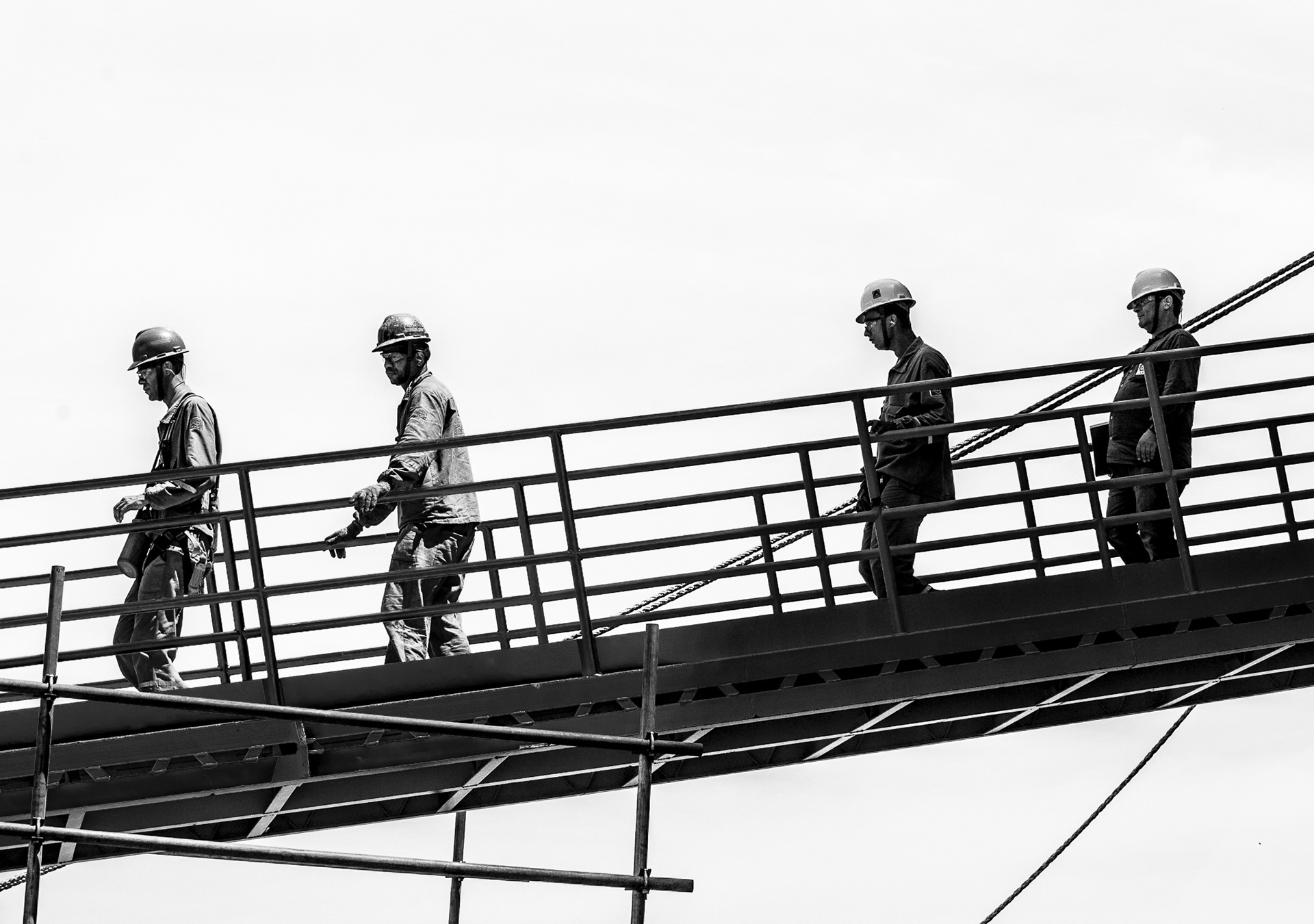 The naval construction is an activity practiced since remote dates of the prehistory which is dedicated to build vessels, waterways and derivatives, as well as to maintain and operate established navigation systems. This work was originated by the inquietude felt in the relation between the people who performed such activities and the working conditions of the industry they were submitted to, and evolved to an interpretative visual investigation that seeks to establish a debate about the theme through its visibility. The subjectivity permeated in these photographic representations has a commitment with what is been told, just as a positioning about the reality of the social structure in the time and space I encountered it. In the intention of creating meaning, what was pursued in the aesthetic value was its quality to communicate through visual impact, to reach for something – the reader in this case. This intention is followed by textual narratives that aim an understanding of the critical discussion portrayed, as well as the need of affirmative actions regarding the approached social phenomena.
A construção naval é uma atividade praticada desde datas remotas da pré-história e que se dedica a construir embarcações, estruturas hidroviárias e derivadas, assim como manter e operar sistemas de navegação estabelecidos. Este trabalho se originou em razão da inquietação sentida na relação entre as pessoas que desempenham tais atividades e as condições de trabalho da indústria em que elas estão submetidas, e desenvolveu-se em uma investigação visual interpretativa que busca estabelecer uma discussão sobre o tema por meio da sua visibilidade. A subjetividade permeada nestas representações fotográficas possui tanto um compromisso com o que é contado, assim como um posicionamento quanto à realidade daquela estrutura social no tempo e no espaço em que me defrontei com ela. Na intenção de significar, foi buscado no valor estético a sua qualidade de se comunicar por meio do impacto visual, de atingir algo – o leitor neste caso. Esta intenção vem acompanhada por narrativas textuais que visam a compreensão do debate crítico retratado, assim como a necessidade de ações afirmativas acerca dos fenômenos sociais abordados.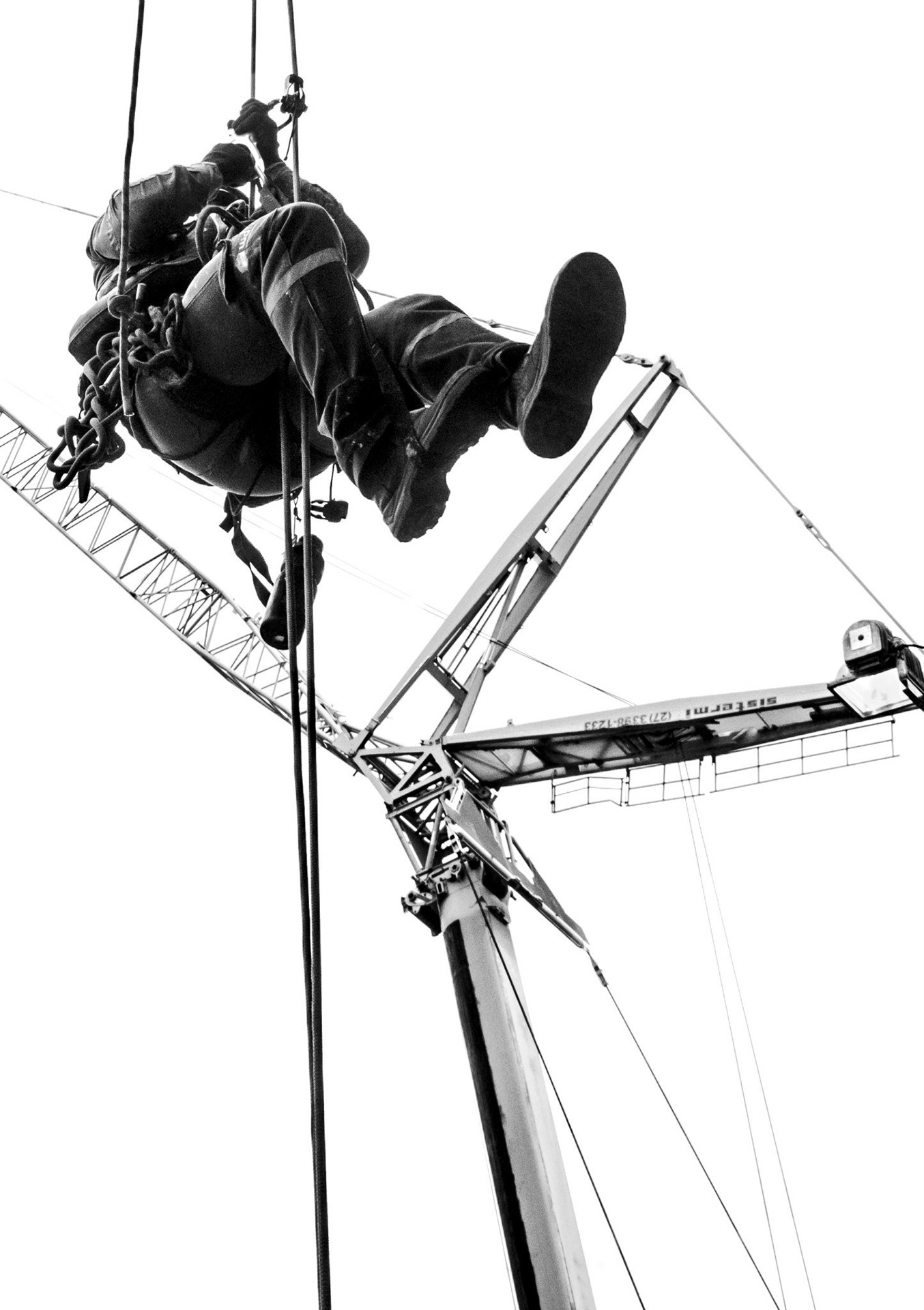 References • ​​​​Referências
Regarding the pain of others 
Susan Sontag
 • Abrir no mundo, rasgando o trecho: mobilidade popular, família e grandes projetos de desenvolvimento 
André Dumans Guedes
 • On photography 
Susan Sontag
 • Trabalhadores, fotografia documental e autoria 
Eduardo Queiroga